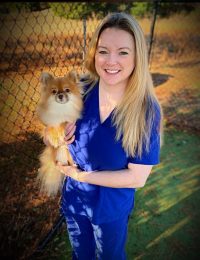 Practice Manager & Technician Assistant
Growing up on a farm in nearby Grant, AL helped April develop a passion for animals before she even knew what veterinary medicine was. April earned her Associate in Pre-Veterinary Medicine from Snead State Community College in 2000 and graduated in 2002 with a Bachelor of Science in Agriculture & Animal Medicine from Auburn University. After college, April immediately began working at a veterinary clinic and has continued her love for animal science ever since. With 18 years experience working as a veterinary technician, her favorite parts of the job now include client & staff education as well as working with pets.
April shares her home with husband Brandon and dogs Jazz, Stella, & Timmy; cats Squirrel, Os, & Koozie; and horses Spunky & Precious. She & her husband both love traveling and strive to do so as much as possible.