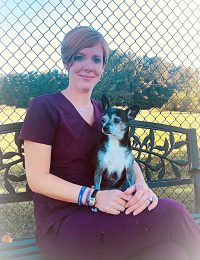 Licensed Veterinary Technician & Co-Lead
As a senior in high school, Ashley began working at Fayetteville Animal Clinic as a kennel attendant.  She knew she wanted to not only help animals, but to care for them in a larger capacity.  She then went to further her education and graduated from Columbia State Community College as a licensed veterinary technician in 2009.  She has worked in the field of veterinary medicine since 2004 and is still enjoying every minute of it!
In her spare time she loves spending time with her two daughters.  They enjoy being outdoors, camping, riding Razors and just spending time together as a family.
Ashley's family shares their home with a chihuahua named Tater, a golden named Ella, a chihuahua mix named Tinkerbell, and a calico cat named Lucy.