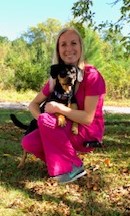 Licensed Veterinary Technician
Originally from Olive Branch, MS, Jamee has worked in veterinary medicine since 2015 and earned her Bachelor of Science in Veterinary Technology from Mississippi State in 2017. Jamee married in 2018 and later moved with her husband to Illinois, where she was a Health Coordinator Assistant for a large veterinary swine service company.
Getting back to her southern roots, Jamee joined our technician team in August 2020 as she and husband moved to the Huntsville area with their dog Val, cat named Jamie (who was husband's cat before they met!), and two horses Xani & Izzy. Spare time for Jamee is filled with working on her photography business, horseback riding, hiking, boating, and fishing.