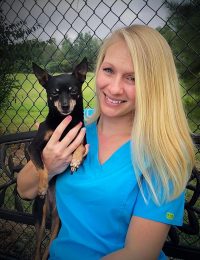 Licensed Veterinary Technician & Co-Lead
Stephanie was born and raised in Huntsville Alabama and graduated from Grissom High School. She wanted to be a Veterinarian since she was a little girl and has always had a passion for working with animals.  She started volunteering with a local animal and spay and neuter organization in high school.  Soon after, in 2008, she began shadowing at an animal clinic and accepted a position as a kennel attendant.  She continued to pursue her dreams and became a Veterinary Technician.
 She graduated from the University of Alabama in Huntsville with a Bachelor's of Biology with a Chemistry minor in 2013. Stephanie received her Associates of Veterinary Technology from Penn Foster in 2019 and in 2020 passed the Alabama State Board examination to be a Licensed Veterinary Technician. She also received the Journey's end award & scholarship for Excellence in Patient care in 2015.
 Stephanie enjoys spending her free time walking her dogs, going to the gym, running 5k's, riding four-wheelers and floating the river in her kayak.  Her chihuahua Tinkerbell rules her home, as well as her lab mix Toi.