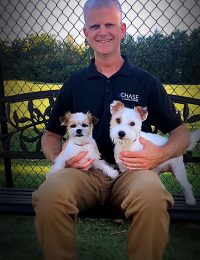 Dr. Crabb was born and raised in the Huntsville area. He graduated from Hazel Green High School, received an undergraduate degree at The University of Alabama in Huntsville and then went on to complete veterinary school at Auburn University in 1999.
Dr. Crabb and his wife Shannon have three daughters, Catherine, Madelyn and Caroline and share their home with four legged family members Copper, Scout and Jax.
Dr. Crabb has called Chase Animal Hospital home, since 1999. In 2016 Dr. Crabb partnered with Dr. Knight in purchasing Chase Animal Hospital from its previous owner and now shares ownership of the practice.